Video call consultations for aged care residents aim to avoid unnecessary trips to emergency
A trip to an emergency department can be stressful at the best of times, but for residents of aged care facilities, receiving urgent medical care at a hospital comes with additional risks.
Older people presenting to an emergency department stay longer on average than their younger counterparts and are more likely to be hospitalised as a result – which in turn, is associated with higher mortality rates. And with older people generally over-represented at emergency departments, avoiding unnecessary visits could also ease some of the strain on clinicians.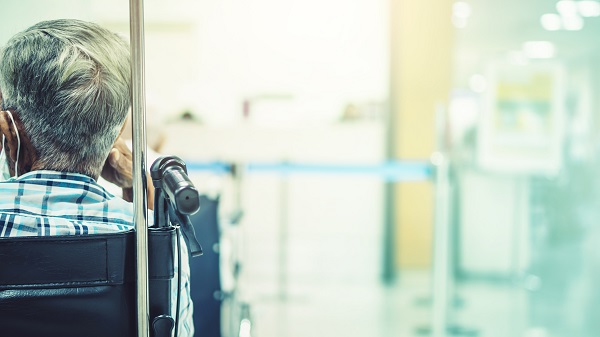 Now a new, nurse-led telehealth trial aims to provide better health outcomes for aged care facility residents and support for aged care facilities and emergency staff.
Carla Sunner is an aged care emergency clinical nurse specialist at John Hunter Hospital. Together with Dr Michelle Giles, manager of the Hunter and New England Nursing and Midwifery Research Centre, she is leading a project that harnesses video technology to improve assessments of aged care facility residents before they're sent to an emergency department.
If a resident at an aged care facility falls ill or is injured, their first port of call is usually a GP. But should the GP be unreachable, aged care residential facilities across parts of the Hunter and New England region can utilise the 24-hour Aged Care Emergency (ACE) service.
An aged care facility staff member rings their local hospital and speaks to a registered nurse trained in aged care. The nurse, after assessing the resident's condition over the phone, will advise whether the patient should be brought into the emergency department, or if they can receive appropriate treatment at their facility.
Sunner, who has worked at the John Hunter Hospital for five years, became convinced that, even though the ACE service had reduced the number of emergency department presentations and hospitalisation for aged care facility residents, more could be done.
Incorporating a visual component to the ACE call, she realised, would offer information that a chat over the phone could not provide. The nurse would be able to see the physical condition of the patient and communicate more easily with them, their family and other aged care support staff.
If need be, the nurse could also enlist the help of other clinicians, Sunner says. "Some aged care facilities have access to an X-ray machine, so those X-rays could then be sent to the orthopaedic team to review them and say, 'you could manage this in the facility' or 'bring the resident in here'."
Then, after each assessment, a report could be automatically generated and distributed to the residential aged care facility, the patient's GP and any relevant medical specialists for their records.
"There's just so many things you can do with telehealth," Sunner says. "It seemed like a logical progression of ACE."
From idea to implementation
Soon after this realisation, Sunner met Giles, who invited her to present her telehealth-assisted ACE assessment idea to the Nursing and Midwifery research leadership group.
"The team was impressed, saw the potential benefits and was immediately on board," Giles says.
Sunner and Giles applied for and were awarded a NSW Health 2019 Translational Research Grant to deliver Partnerships in Aged Care Emergency services using Interactive Telehealth, or PACE-IT.
The PACE-IT project will involve four emergency departments and 16 residential aged care facilities in the Hunter New England region and Orange.
To be eligible to join the trial, aged care facilities are required to have the appropriate infrastructure – a minimum of wi-fi and a high-resolution video-enabled device, such as a tablet – and at least six staff members to be trained in the PACE-IT service. They could then, as needed, train more staff at their facility.
PACE-IT implementation began in February and the project will run for 2 years. The research component of the program will form part of Sunner's PhD project, which she is undertaking at the University of Newcastle.
Alongside quantitative data collection, such as measuring and comparing rates and outcomes for aged care residents assessed using PACE-IT, Sunner and Giles will interview all those involved in the service to find out if they found it useful, what worked and what could be improved for potential future PACE-IT roll-outs.
And even though it's still early days, the pair has been "overwhelmed" by the interest in PACE-IT.
"People across the district see potential in the service," Giles says. "There's so much passion for it because everyone wants a better outcome for these older people."
Updated 2 months ago