Are you interested in making a significant impact with your health innovation and do you want to successfully commercialise your idea or invention?
NSW Health's Commercialisation Training Program is investing in the people of NSW who are driving innovation in the medical and health sector. We are committed to helping innovators build skills and knowledge so they can continue to commercialise innovations successfully, form stronger networks across the state, and nurture novel medical technology.
The Program, run by Cicada Innovations, aims to fast-track innovative ideas that will revolutionise the healthcare sector, improve patient outcomes, and provide economic opportunities for emerging health tech businesses in NSW.
---
| | | |
| --- | --- | --- |
| For anyone with the ambition to create and launch medtech & biotech innovation |   | Researchers, scientists, clinicians, entrepreneurs, intrapreneurs and those in the health sector who are working on a novel medical device, diagnostic or therapeutic product, or a software that is considered a medical device. |
ABOUT THE PROGRAM

The NSW Health Commercialisation Training Program has been designed by leading experts to nurture innovative, early stage health tech solutions, and help innovators to build sustainable businesses in NSW.

One of the benefits of the program is that it has been created to meet you at the stage that best suits you. This allows you to join at any point of the program, depending on the stage of your health innovation.

You can learn at your own pace and structure your learning around a timeline which works for you and your idea.

WHAT'S INVOLVED

The Program is broken up into three key stages:

Getting Started in health tech

Time to Validate your health tech idea

Time to Grow your health tech business

This flexible approach means you can complete the program in its entirety or join specific courses most relevant for your stage in the journey.
PROGRAM SEGMENTS
The end-to-end Program consists of three verticals which are broken down into seminars and courses.
| | | | | |
| --- | --- | --- | --- | --- |
| | | | | |
| If you're just getting started, the program offers an online course and seminars to build your foundational commercialisation knowledge and skills. | | Validate your idea with peers and experts with our in-depth courses that will help you take your entrepreneurial skills to the next level. | | Deep dive into your specific sector and walk away with new connections and strategies to accelerate your growth. |
| | | | | |
SIGN UP TO RECEIVE EMAIL UPDATES ABOUT THE PROGRAM
---
UPCOMING EVENTS AND SEMINARS
MEDICAL DEVICES

The Medical Devices Specialisation course will help you drill down into necessary steps to take your business forward. You'll get personalised feedback to help you navigate your way into Australian and international markets.

This course is delivered in partnership with Mark Flynn, Global Edge Medtech Consulting who holds 14 patent families, has commercialised 30+ medical devices and raised $50M+ in grant funding.

Date: 7th – 9th March 2023

Time: 9:00am – 5:00pm on all three days

Location: Cicada Innovations or online

Application deadline: 14th February
---
INFORMATION SESSION

Join this information session on the NSW Health Commercialisation Training Program and learn more about the program and how it can help you boost your healthtech idea into a sustainable business.

1:00-1:30 pm
Fri 11th November 2022
---
POWERED BY CICADA INNOVATIONS
Cicada Innovations is committed to building a collaborative innovation ecosystem in NSW. It takes a wide breadth of expertise and know-how to set fledgling entrepreneurs up for success and commercialise their technologies. We have a 20 year track record helping people do this.

With the Commercialisation Training Program we are providing the resources, knowledge and connections to help innovators working at the forefront of medical technology create a pathway to their commercial success.
---
PROGRAM DELIVERY PARTNERS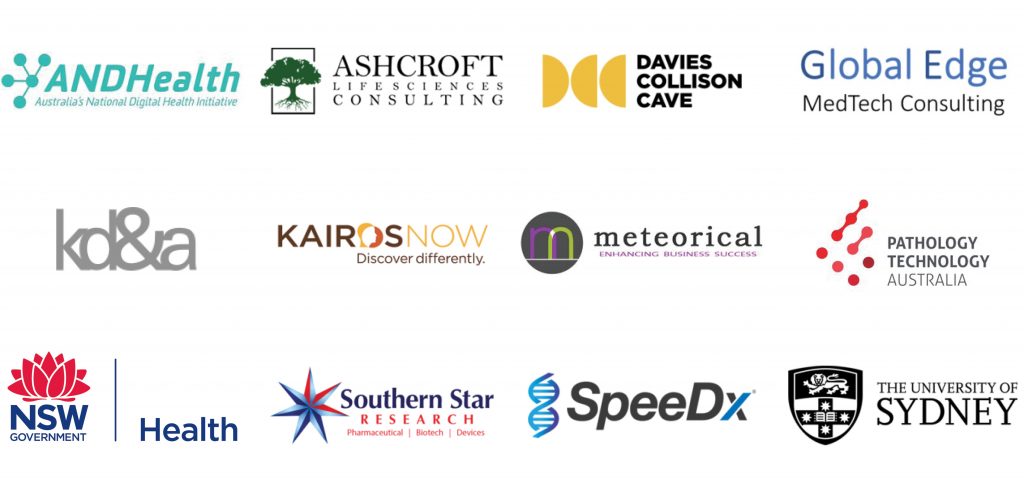 ---
Frequently Asked Questions
What does it cost?
The Program is fully funded by NSW Health. It is free and open to anyone residing in NSW.
When does the Program run?
The Program runs from August to May. It consists of several modules and allows people to get the right support at the right time.
Watch the 2020 Graduation and Showcase
Graduates
2020 Graduates
Alessandro Simeoli, NSW Toll Ambulance Rescue Helicopter Service
Beena Ahmed, Say66
Kirrie Ballard, Say66
Jason Fairclough, Kangaroo Medtek
Jonathan Hribar, Blindness Assistive Technologies
Luke Gordon, University of Sydney
Nafiseh Mirabdolhosseini, Western Sydney University
Nicole Hasick, SpeeDx Pty Ltd
Ricky O'Brien, University of Sydney
Robert Walker, OCULENCE
Sarah Holland, The Black Dog Institute
Turaab Khan, Ischaemia Solutions
Medical Device Commercialsation Training Program 2020 Graduates booklet

PDF - 1 MB
2019 Graduates
Ben Lindsay, Solushin
Rosa Miller, Solushin
Dr Benjamin Stephens-Fripp, University of Wollongong
Christian Legerer, University of New South Wales
Dr Dan Yang, University of Wollongong
David Wallace, Cerebro Biosystems
Jason Borrie, Frontier Genomics
Dr Jerry Zhou, Western Sydney University
Dr Jingjing You, iFix Medical Pty Ltd
Dr Joseph Dusseldorp, Syncricity Pty Ltd
Dr Nadi Sadr, University of Sydney
Dr Negar Talaei Zanjani, Western Sydney Local Health District
A/Professor Rebekah Moles, University of Sydney
Dr Shaheen Hasmat, University of Sydney
Dr Tracy Dudding-Byth, Hunter New England Local Health District
Medical Device Commercialisation Training Program 2019 Graduates booklet

PDF - 2 MB
2018 Graduates
Dr Gordon Stevenson, University of New South Wales
Dr Iman Manavitehrani, Heart Centre for Children at Westmead Hospital
Dr Renxun Chen, University of New South Wales
Dr Kim van Schooten, Neuroscience Research Australia
Ameneh Sadeghpour, Allegra Orthopaedics Limited
Associate Professor Hamish MacDougall, University of Sydney
Dr Olga Shimoni, University of Technology Sydney
Buket Demirci, University of Technology Sydney
Dr Carmine Gentile, University of Sydney
Katherine Kawecki, Respia
Christian Reeks, Respia
Dr Helder Marcal PhD, Rheumedica® Pty Ltd
Kelly Berger, Confidential Pathology
Dr Kevin Chi-Ping Siu, Jellyfish
Dr Martin Engel, University of Wollongong
Stephen Towe, Leo Cancer Care
Medical Device Commercialisation Training Program 2018 Graduates booklet

PDF - 3 MB
2017 Graduates
Thomas Millar
Burkhardt Schuett
Celi Varol
Tegan Cheng
Celeste Coltman
Sarah McDonald
Qiao Qiao
James Wright
Mohamed 'Haroon' Kasim
Nicky Agahari
Sankar Arumugam
Maryam Parviz
Saber Mostafavian
Jonathan Arthur
Nicole Cockayne
Ashkan Javadzadegan
Chelsie O'Connor
Alistair McEwan
Medical Device Commercialisation Training Program 2017 Graduates booklet

PDF - 5 MB
2015 Graduates
Aiden O'Loughlin, University of Western Sydney
Annabelle Chan, University of Sydney
David Yeo, Royal Prince Alfred Hospital
Dharmica Mistry, BCAL Diagnostics Pty Ltd
James Otton, Liverpool Hospital
Robert Gorkin, University of Wollongong
Josef Goding, University of New South Wales
Sandra Ast, AusSI Systems
Sean Pollock, Respiratory Innovations
Stephanie Watson, Save Sight Institute
Stephen Bradford, CSIRO/Garvan Institute of Medical Research
Yang Chen, Woolcock Institute
Medical Device Commercialisation Training Program 2015 Graduates booklet

PDF - 3 MB
2014 Graduates
Alexander Baume, University of Sydney
Ali Fathi, University of Sydney
Bakul Gupta, University of New South Wales
Damian Conway, University of New South Wales
Evelyn Linardy, University of New South Wales/SpeeDx Pty Ltd
Farzaneh Ahmadi, University of Sydney
Gaetano Gargiulo, University of Western Sydney
Ilana Feain, University of Sydney
James Wood, Macquarie University
Kyloon Chuah, University of New South Wales
Linda Varadi, University of Sydney
Michael Weaver, University of Wollongong
Nicky Bertollo, University of New South Wales
Paul Breen, University of Western Sydney
Paul Keall, University of Sydney/Breathe Well
Roya Ravarian, Endoluminal Sciences
Ryan Pawell, University of New South Wales/Indee Pty Ltd
Rylie Green, University of New South Wales
Sheridan Gho, University of Wollongong
Simon Bone, University of New South Wales/SpeeDx Pty Ltd