The Program is a unique career development opportunity focused on medical device development and commercialisation. The NSW Medical Device Commercialisation Training Program fulfils a commitment to build medical device commercialisation capacity in NSW and contributes to the discovery and application of new treatments and diagnostic techniques to improve patient outcomes.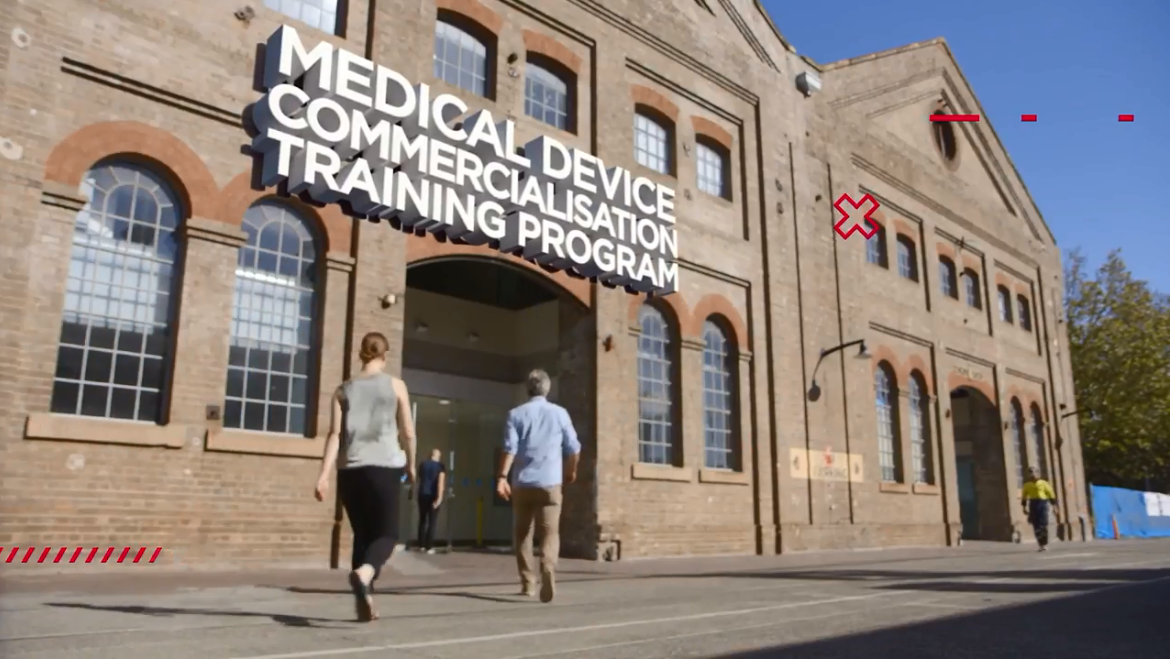 The Program was first run in 2014 and has been critical in developing the innovation ecosystem in NSW. The quality of the training is such that the Program has been awarded 12 credit points towards MBA Programs at UNSW and University of Wollongong. The newly expanded program will provide learning opportunities for up to 200 NSW-based medical device technologists, academics, and clinicians each year over the next four years.
Graduates of Medical Device Commercialisation Training Program have launched companies, engaged industry partners and raised more than $9 million in grants and private investment, creating job opportunities in Australia and abroad. The program has been particularly successful at encouraging women as entrepreneurs.
If you would like to receive an alert when applications for the 2o21 intake open, please subscribe to our mailing list.
Watch the 2020 Graduation and Showcase
Graduates
2020 Graduates
Alessandro Simeoli, NSW Toll Ambulance Rescue Helicopter Service
Beena Ahmed, Say66
Kirrie Ballard, Say66
Jason Fairclough, Kangaroo Medtek
Jonathan Hribar, Blindness Assistive Technologies
Luke Gordon, University of Sydney
Nafiseh Mirabdolhosseini, Western Sydney University
Nicole Hasick, SpeeDx Pty Ltd
Ricky O'Brien, University of Sydney
Robert Walker, OCULENCE
Sarah Holland, The Black Dog Institute
Turaab Khan, Ischaemia Solutions
Medical Device Commercialsation Training Program 2020 Graduates booklet

PDF - 1 MB
2019 Graduates
Ben Lindsay, Solushin
Rosa Miller, Solushin
Dr Benjamin Stephens-Fripp, University of Wollongong
Christian Legerer, University of New South Wales
Dr Dan Yang, University of Wollongong
David Wallace, Cerebro Biosystems
Jason Borrie, Frontier Genomics
Dr Jerry Zhou, Western Sydney University
Dr Jingjing You, iFix Medical Pty Ltd
Dr Joseph Dusseldorp, Syncricity Pty Ltd
Dr Nadi Sadr, University of Sydney
Dr Negar Talaei Zanjani, Western Sydney Local Health District
A/Professor Rebekah Moles, University of Sydney
Dr Shaheen Hasmat, University of Sydney
Dr Tracy Dudding-Byth, Hunter New England Local Health District
Medical Device Commercialisation Training Program 2019 Graduates booklet

PDF - 2 MB
2018 Graduates
Dr Gordon Stevenson, University of New South Wales
Dr Iman Manavitehrani, Heart Centre for Children at Westmead Hospital
Dr Renxun Chen, University of New South Wales
Dr Kim van Schooten, Neuroscience Research Australia
Ameneh Sadeghpour, Allegra Orthopaedics Limited
Associate Professor Hamish MacDougall, University of Sydney
Dr Olga Shimoni, University of Technology Sydney
Buket Demirci, University of Technology Sydney
Dr Carmine Gentile, University of Sydney
Katherine Kawecki, Respia
Christian Reeks, Respia
Dr Helder Marcal PhD, Rheumedica® Pty Ltd
Kelly Berger, Confidential Pathology
Dr Kevin Chi-Ping Siu, Jellyfish
Dr Martin Engel, University of Wollongong
Stephen Towe, Leo Cancer Care
Medical Device Commercialisation Training Program 2018 Graduates booklet

PDF - 3 MB
2017 Graduates
Thomas Millar
Burkhardt Schuett
Celi Varol
Tegan Cheng
Celeste Coltman
Sarah McDonald
Qiao Qiao
James Wright
Mohamed 'Haroon' Kasim
Nicky Agahari
Sankar Arumugam
Maryam Parviz
Saber Mostafavian
Jonathan Arthur
Nicole Cockayne
Ashkan Javadzadegan
Chelsie O'Connor
Alistair McEwan
Medical Device Commercialisation Training Program 2017 Graduates booklet

PDF - 5 MB
2015 Graduates
Aiden O'Loughlin, University of Western Sydney
Annabelle Chan, University of Sydney
David Yeo, Royal Prince Alfred Hospital
Dharmica Mistry, BCAL Diagnostics Pty Ltd
James Otton, Liverpool Hospital
Robert Gorkin, University of Wollongong
Josef Goding, University of New South Wales
Sandra Ast, AusSI Systems
Sean Pollock, Respiratory Innovations
Stephanie Watson, Save Sight Institute
Stephen Bradford, CSIRO/Garvan Institute of Medical Research
Yang Chen, Woolcock Institute
Medical Device Commercialisation Training Program 2015 Graduates booklet

PDF - 3 MB
2014 Graduates
Alexander Baume, University of Sydney
Ali Fathi, University of Sydney
Bakul Gupta, University of New South Wales
Damian Conway, University of New South Wales
Evelyn Linardy, University of New South Wales/SpeeDx Pty Ltd
Farzaneh Ahmadi, University of Sydney
Gaetano Gargiulo, University of Western Sydney
Ilana Feain, University of Sydney
James Wood, Macquarie University
Kyloon Chuah, University of New South Wales
Linda Varadi, University of Sydney
Michael Weaver, University of Wollongong
Nicky Bertollo, University of New South Wales
Paul Breen, University of Western Sydney
Paul Keall, University of Sydney/Breathe Well
Roya Ravarian, Endoluminal Sciences
Ryan Pawell, University of New South Wales/Indee Pty Ltd
Rylie Green, University of New South Wales
Sheridan Gho, University of Wollongong
Simon Bone, University of New South Wales/SpeeDx Pty Ltd